This week we have in the Spotlight an artist named Zipcy. She is from Seoul, Republic of Korea, and she works with: ink, pencil and digital. Get yourself a cup of tea and let's read about her story.
Subsign: Bored Panda wrote that you go by Zipcy but your real name is Yang Se Eun and that you're a 29-year-old artist from Seoul, South Korea. Is that correct?
Zipcy: YES. My last name is "Yang", and first name is "Se-eun". In Asia, family name goes first. Please kindly be noted. 🙂 And I very much prefer being indicated by my author name, "Zipcy", which stands for my identity, and aim.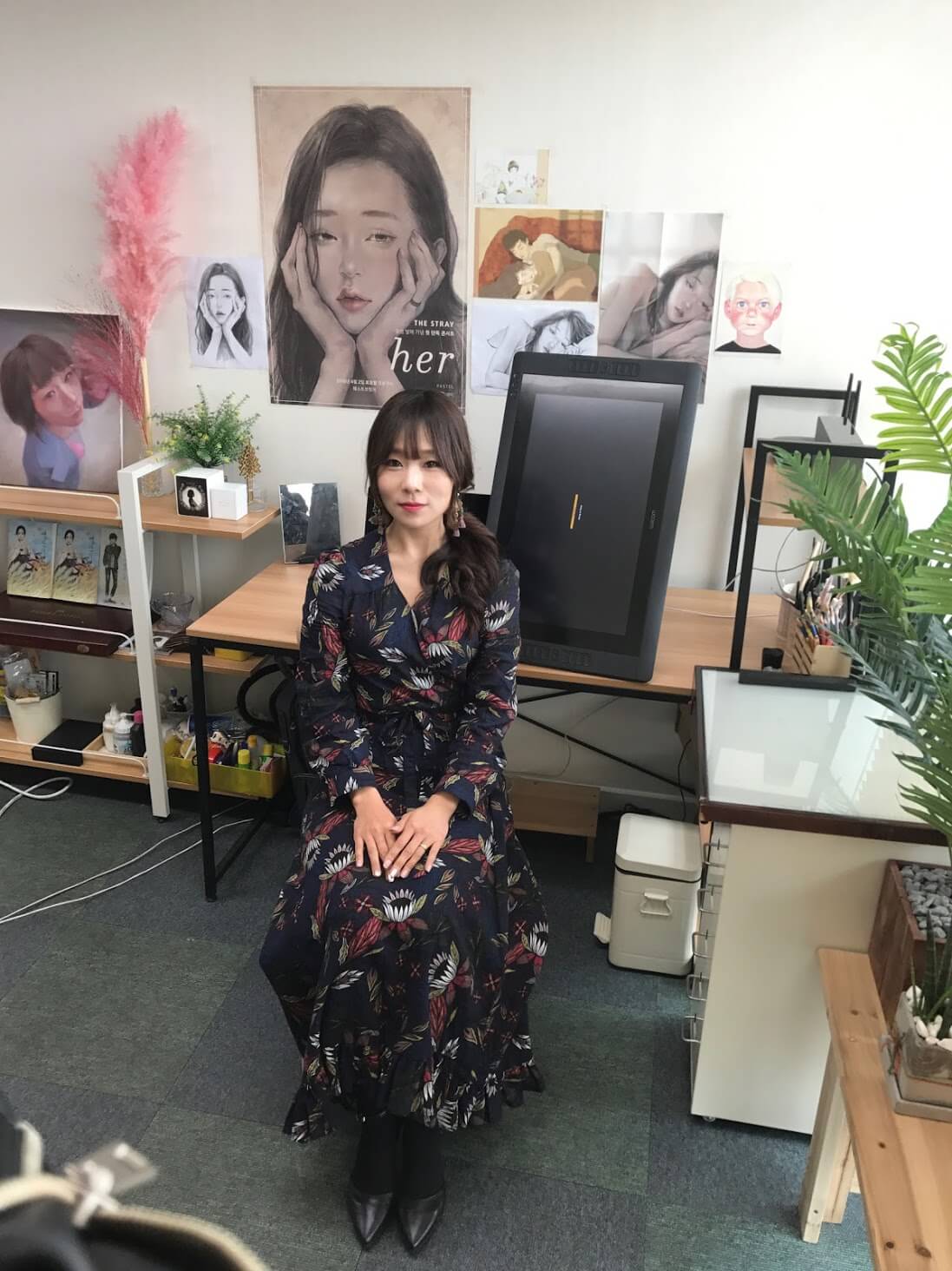 Subsign:How would you describe your Touch series? What do you try to capture with it?
Zipcy: "Flesh on flesh". It is never only a physical contact, nor a friction, but, in the very moment, it is something more- give you a crush, take you high, blow your mind, and make you float around. These illustrations will remind you of that moment of mysterious sensation. Through my work, I want you to relive the moment each of you have experienced, and capture every detail of the scene and feeling of the touch. This is my intention of the series.
Subsign: Who is the man in the illustrations? Your real boyfriend? A character?
Zipcy: The reference of the male character is my husband. Of course he doesn't look exactly the same, but my work is mostly inspired by him – hairstyle, body shape, and aura , etc. Unfortunately, the female character is not from me, but some figure I admire. I don't even look like her, rather I am completely opposite. That's why I'm attracted by short-haired, quiet, and mysterious women. Haha. How the both of male and female characters look like is created from my imagination. That might be the reason they kind of look alike to each other.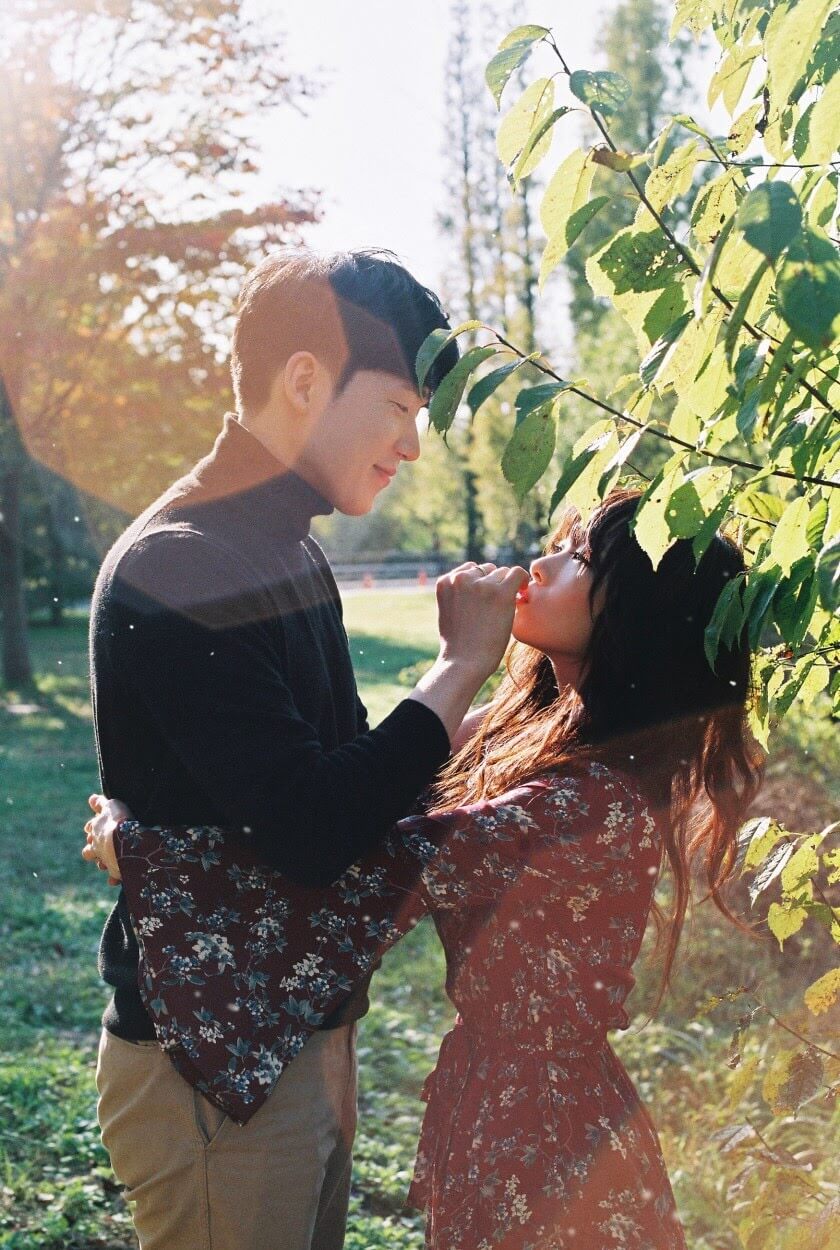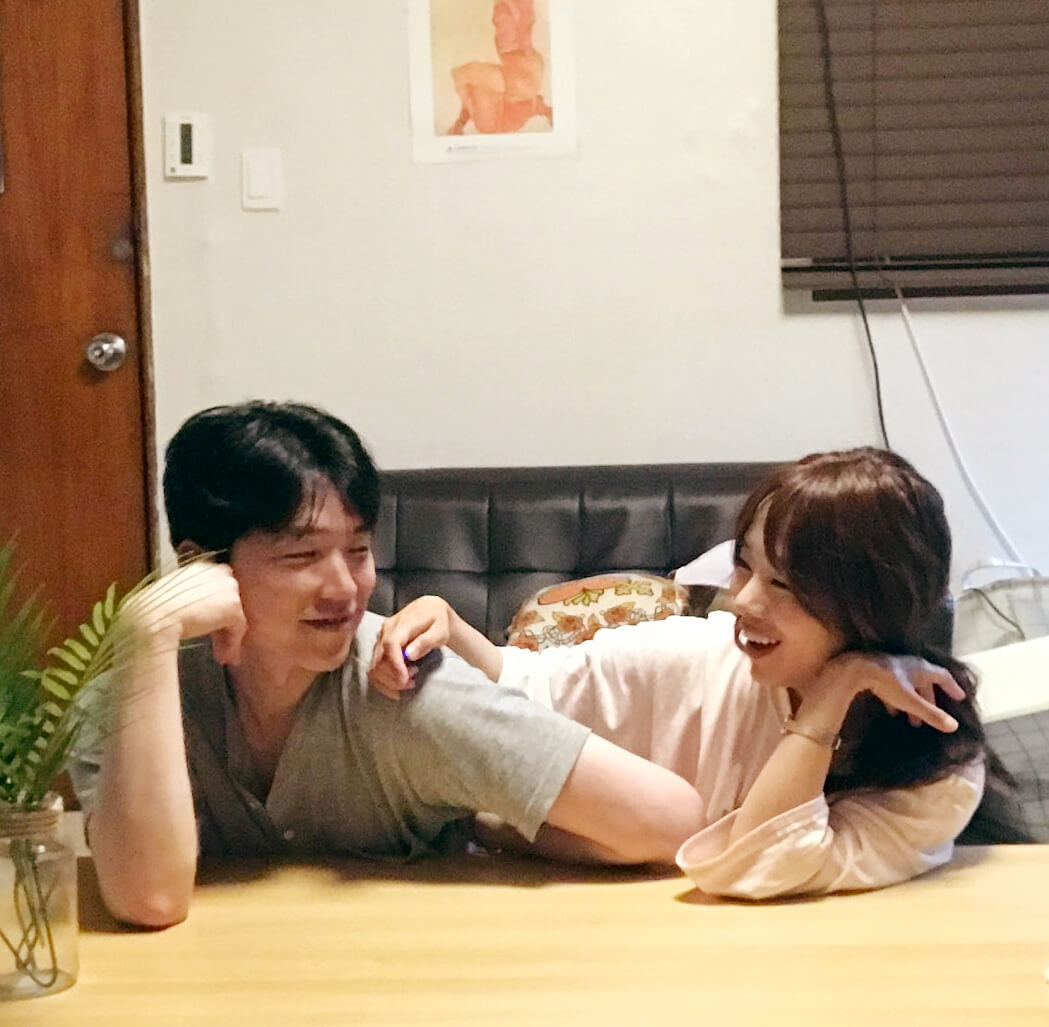 Subsign: When do you start to create these artworks?
Zipcy: I've started my work from June, 2017.
Subsign: What was your childhood like? Do you think your experiences from childhood have influenced your present creative endeavors?
Zipcy: I've enjoyed anime since I was young, so it was natural for me to follow it. Due to its influence, I became to major in cartoon animation. However, later I realized that I liked to 'consume' cartoons, but not to 'produce' them, along with the fact that I liked illustrations much better. This is also the reason why my drawings are often said to be 'cartoon-like'.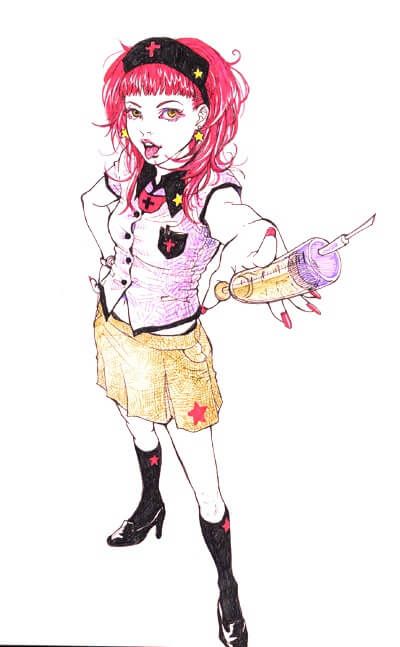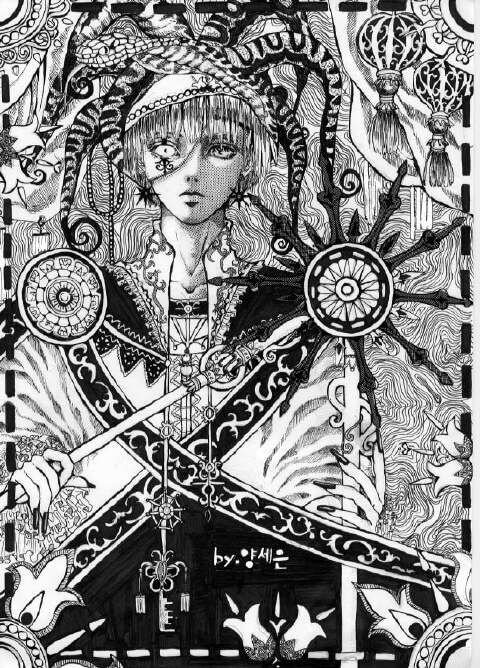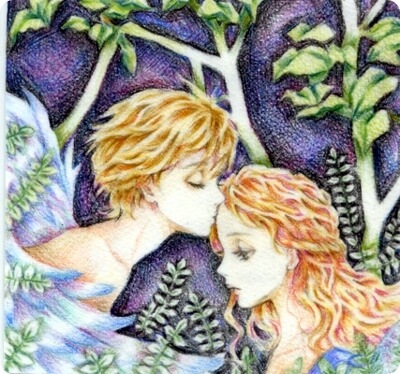 Subsign: How would you describe your work style?
Zipcy: I would say my works are semi obscene pictures. They are within the thin line of being erotic, but not pornographic. Since I also value the sentimental aspects of art, I try to express the sexual tension along with comforting emotions and moods.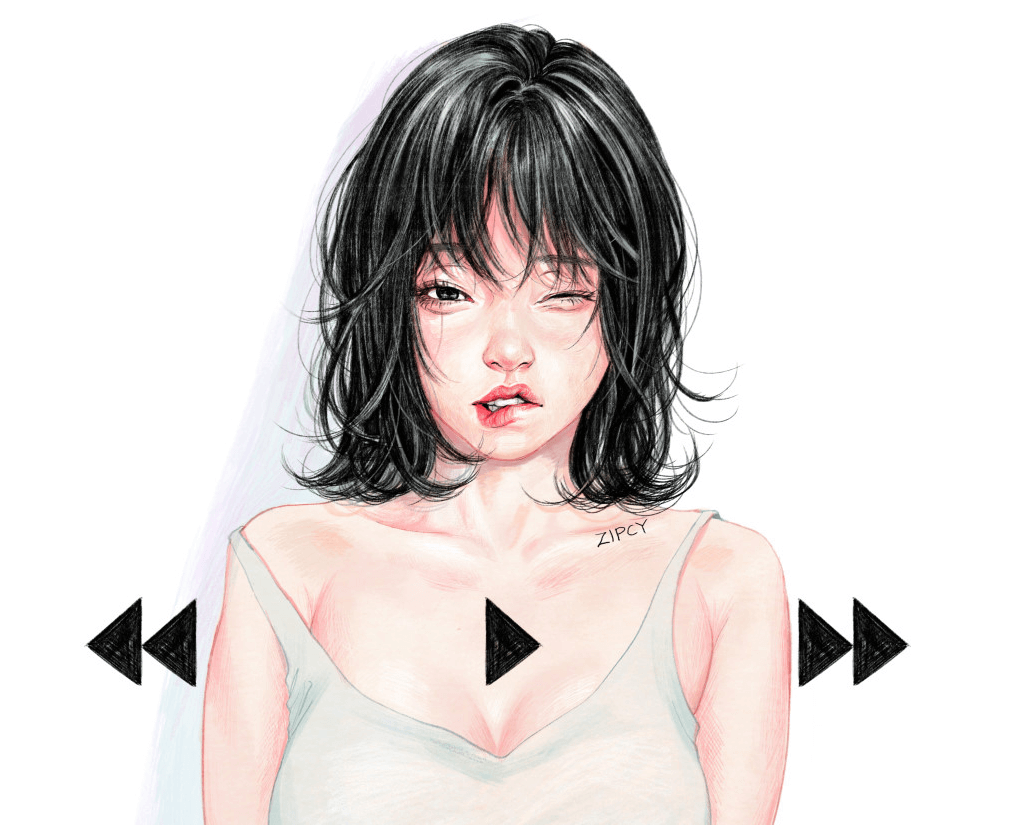 Subsign: Can you share with us how your creative process works?
Zipcy: I prefer working by hand, but I work digitally due to my tight schedule. ( Mackbook pr 13′ + Wacom Cintiq 22 HD + Photoshop CC )
Idea Sketch
Rough Sketch
Figurative Details (I especially focus on facial expressions and body movements.)
Line Drawing and Organizing
Coloring
You can see the full process here.
Subsign:How does your workstation look like?
Zipcy: It has a quiet, comfortable, and homey atmosphere. I chose this space for its big windows with the view of the sky and the mountains.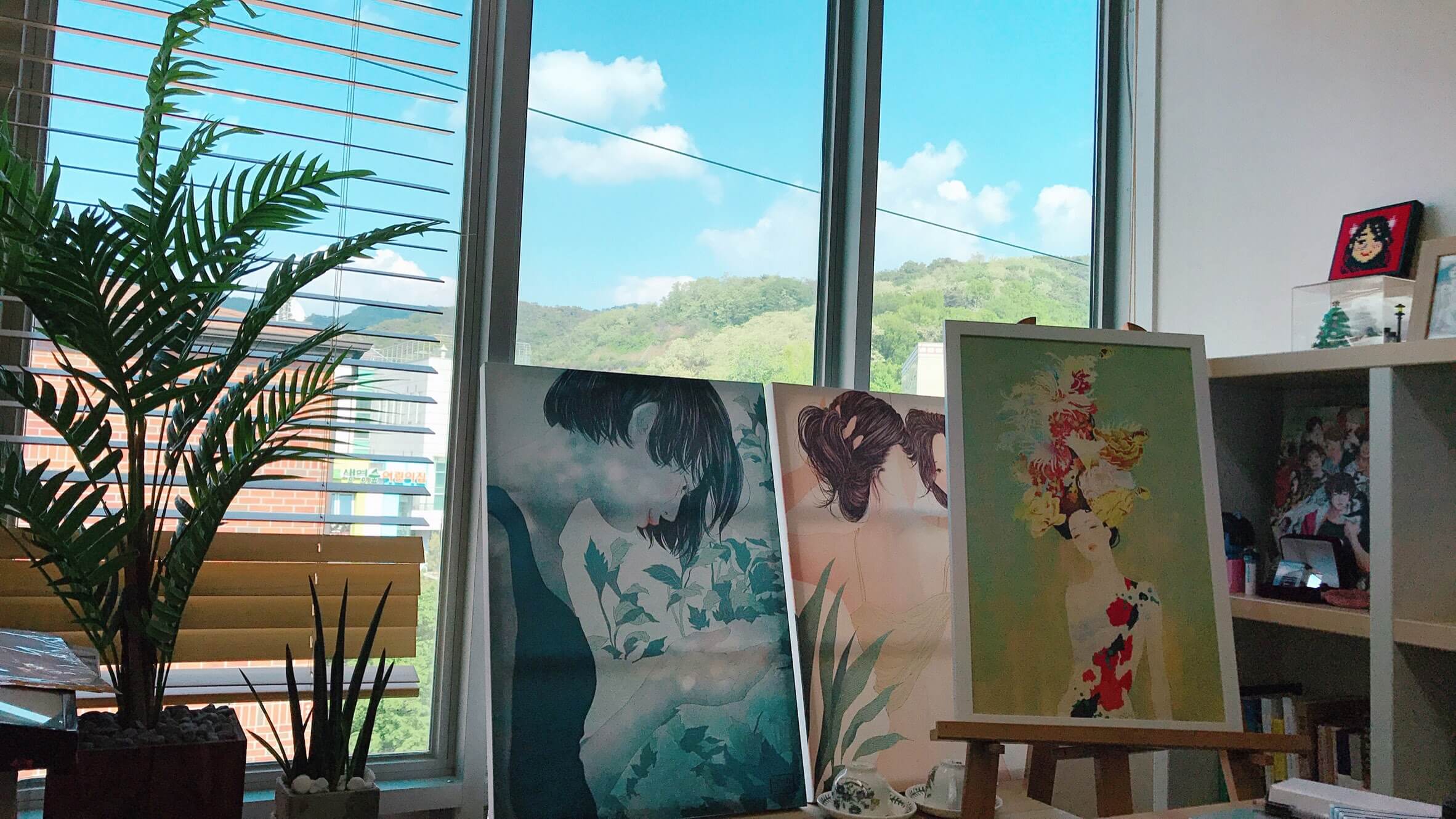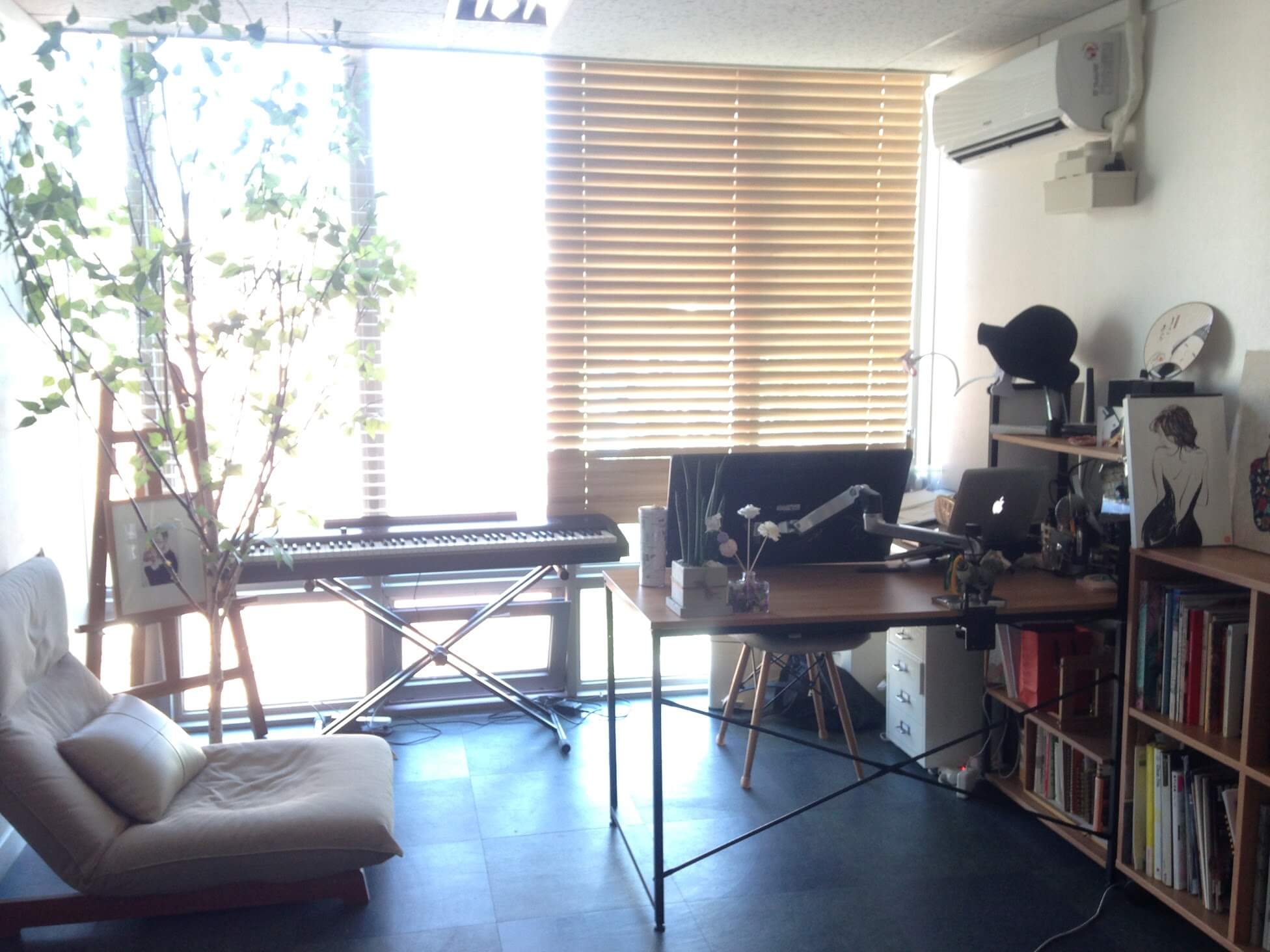 Subsign: What is your favorite work you have done so far?
Zipcy: My favorite work is the "Archer & Witch" in which I've worked with the game, Clash of Clan.I enjoyed the working process very much that I lost track of time, and the work itself became very popular in both inside and outside of the country.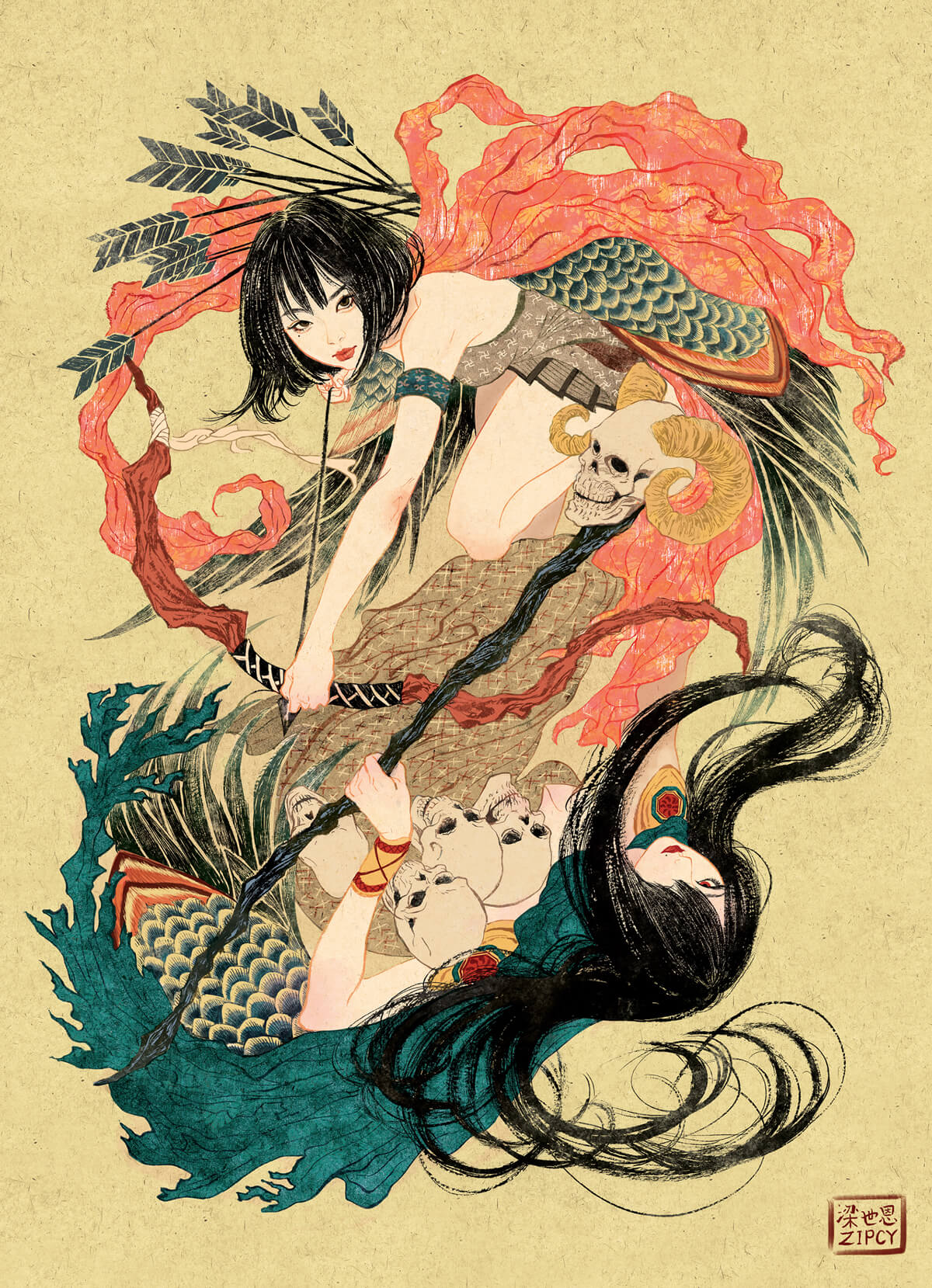 Subsign: Who do you admire as a visionary?
Zipcy: This is deeply related with my other name, 'Zipcy'. My role model is Esmeralda from 'The Hunchback of Notre-Dame'. She has a tough life as she is on the run, selling her talents for begging. However, she always helps other gypsies who are going through the same. I thought her dancing and singing, shaking her tambourine to be energetic and sexy. I chose her name as to reflect her will to live as a woman who appreciates life as it is, expressing her talents to the fullest, and being someone who sparkles from her belief and pride in life. (The correct spelling is 'Gypsy', but for convenience in searching, I've changed the spelling into 'Zipcy'.)
Subsign: What advice could you give to someone starting out in the creative field of work?
Zipcy:I believe this field to be a long-distance marathon. So it is important to be strong, and not to be easily exhausted. In the end, persistency is very important. It took me 10 years to get my career on a path. If I had given up in the middle, the current work of 'touch' would not exist. One's impatience to become famous fast will only make the quality of one's work poor, and the readers notice such change more quickly than one may think. It doesn't last that long. I think looking at the long run and building one's skills slowly is the most important.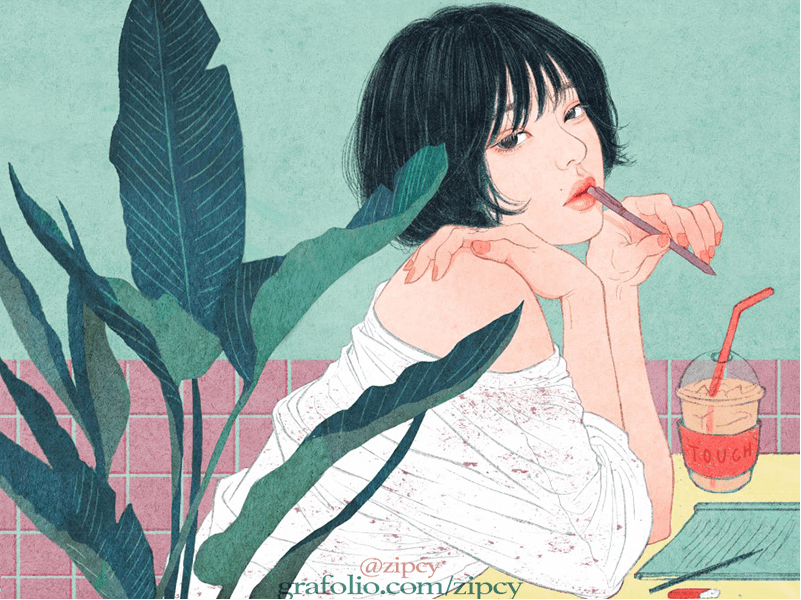 Subsign: If you could learn to do anything, what would it be?
Zipcy: English. The inability to speak the language have cost me lots of opportunities.
Subsign: Can you recommend for our readers a book, a song and a movie?
Zipcy: I love works that contain deep contemplations and lively descriptions on love and relationships. I recommend the Before Sunrise, Before Sunset, and Before Midnight series. There is innocence, restless hearts, and honesty in them. They contain the entire process of the relationship becoming deeper as times goes by. In which one may find unexpected wisdoms of life.
For books, I would recommend 'Alain de Botton' novels.
For music, I recommend J.S. BACH, Six Suites for Unaccompanied Cello by Pablo Casals, and Distance by Emily King.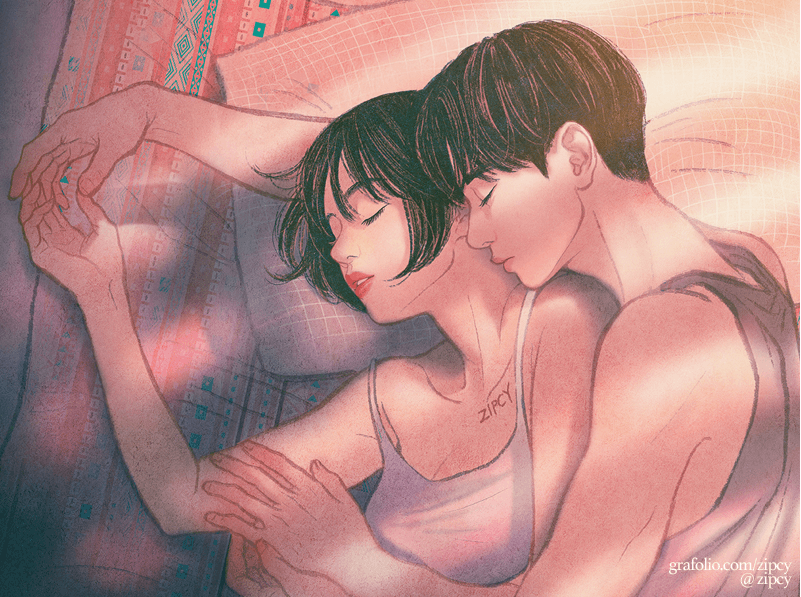 Subsign: What was the beginning of your career as an illustrator? / When did you start to make your works as an illustrator?
Zipcy: When I was in college, I started taking outsourced works to earn my tuition. I gathered my drawings and created a blog and a PDF portfolio, and sent it to over 30 companies through e-mail. Only one of them replied, and that's where it all began.
Subsign: Do you create your works based on what you actually experienced or saw?
Zipcy: Both. I would sometimes be influenced from a memorable scene in a movie or a book that I've read, or I sometimes try my best to describe precious moments in my past relationships or my current marriage that I want to preserve.
Subsign: What are you particular about in your creation?
Zipcy: The fact that it describes 'senses', and that it digitally adds a modern touch to oriental style drawings. I would normally combine handwork, but the current 'touch' series is purely digital as publishing schedules are tight.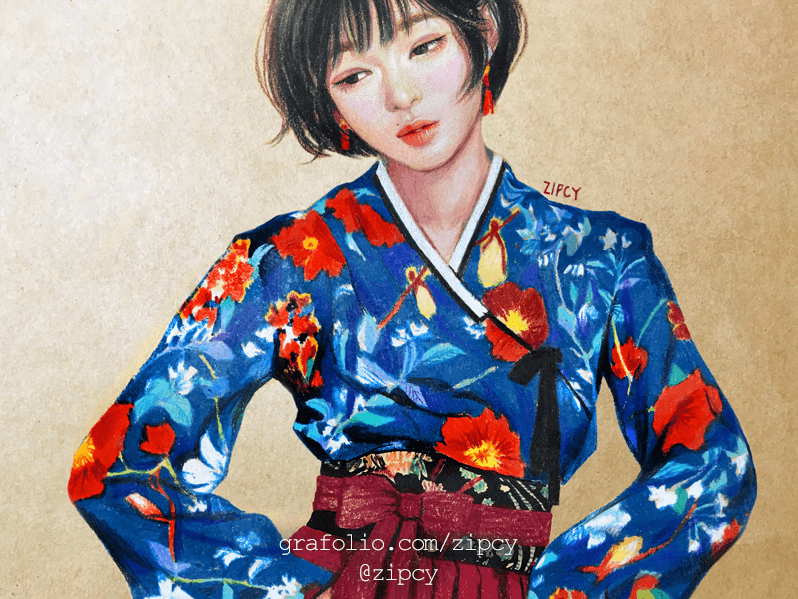 Subsign:Are you planning to start/create other new artwork series?
Zipcy: Yes. After this series. I will travel the world with my husband. I will capture the images of the lovers in each country and describe them as my drawings.
The 'touch' series will be published as a book in 2018. After the book has been published, I am planning on traveling the world with my husband. Rather than scenery, I would like to meet with various married couples and lovers in different nations, capture a part of their love and express it with my own drawing. Since my husband loves cooking, he wishes to cook for them and learn as well, giving the trip a special theme. We don't expect this to be easy, but we hope our talents will create a synergy effect with each other.
I would be satisfied even if this just becomes a big, enjoyable, or even a rough chapter in the long journey of life we will both be spending together. Also, I would love it if this becomes a contents of our own in a visible form.
Thank you so much.
If you know a creative that should be in the spotlight feel free to contact us at jojo@subsign.co .
For more of Zipcy's work you can follow his on the link:Zipcy – instagram, Zipcy on Behance, Zipcy – Portfolio