We are surely getting closer to the end of the year, but we still have a few artists for our Spotlight Interviews that deserve to be showcased. This week, we have Sarah Stieber.
Subsign: Before we get things rolling, let's get acquainted. Tell us a few things about yourself.
Sarah: Hi! I'm Sarah. I'm a full time painter living in San Diego. I love listening to podcasts, practicing yoga, traveling, giggling, having heart to hearts, and coming up with creative business and painting ideas.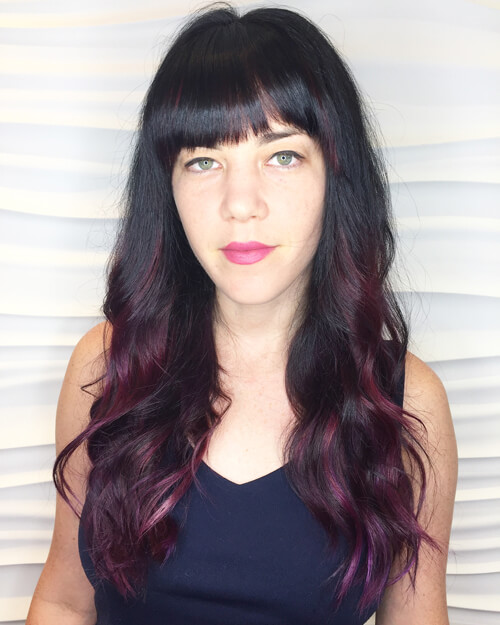 Subsign: What was your childhood like? Do you think your experiences from childhood have influenced your present creative endeavors?
Sarah: I was raised in San Diego and was really shy, very different from my personality now! Friends were always really important to me. My best friend when I was 7 years old is still my closest friend today. My mom was, and still is, an incredibly supportive and loving force in my life and she always encouraged me to pursue art as a child. I spent most of my time drawing alone when other kids were playing, and that observant love of art and people totally translates into my life today.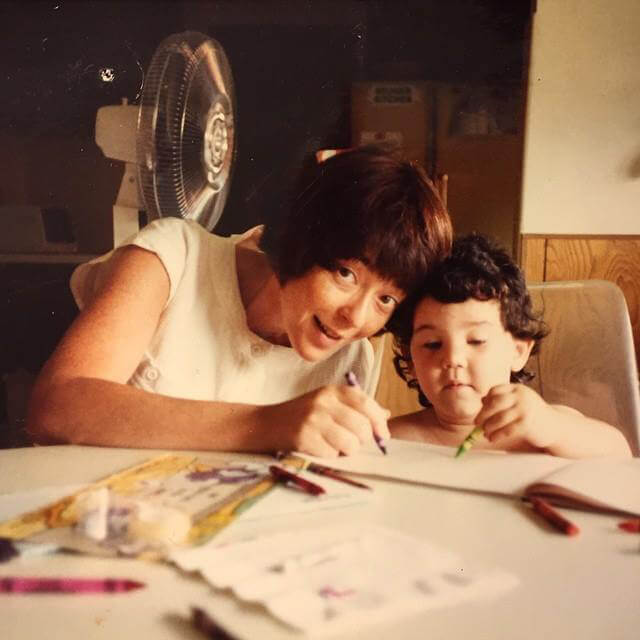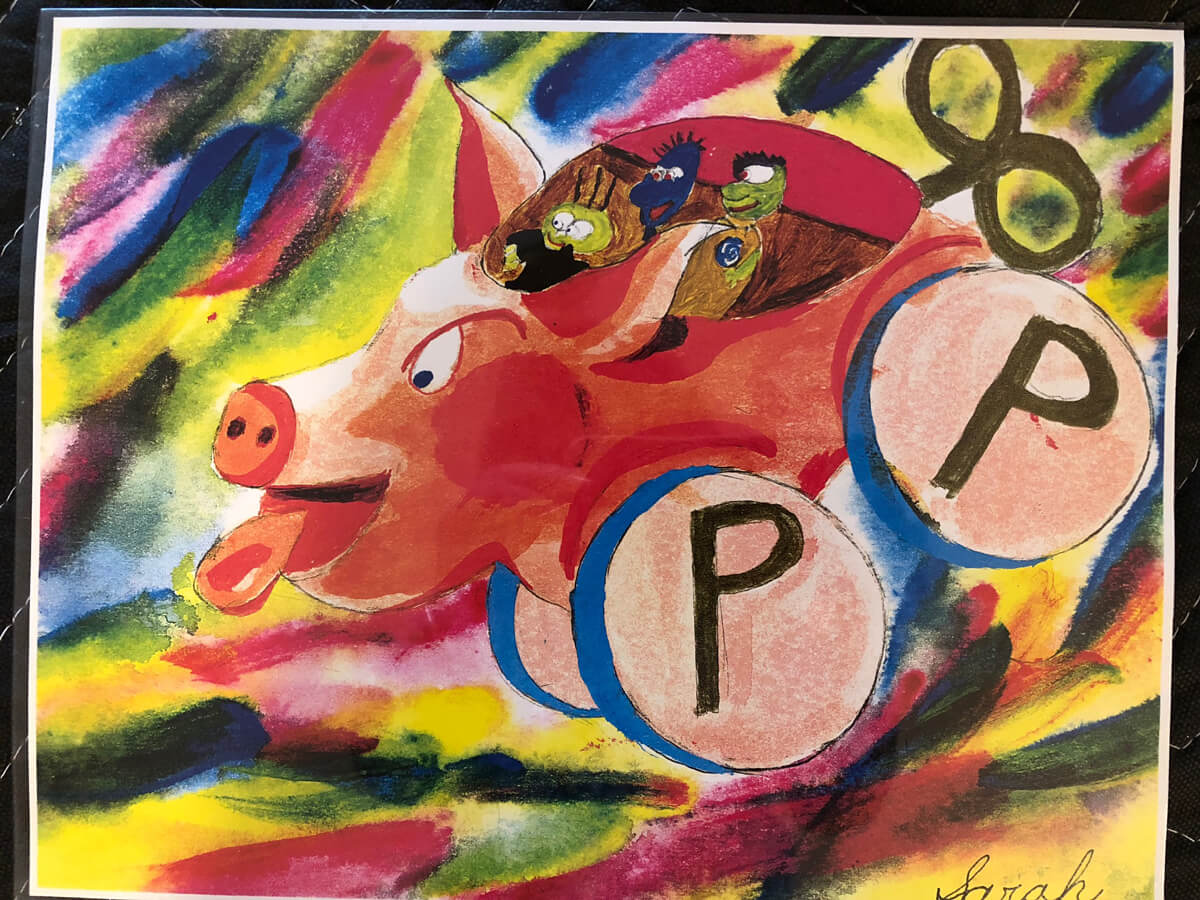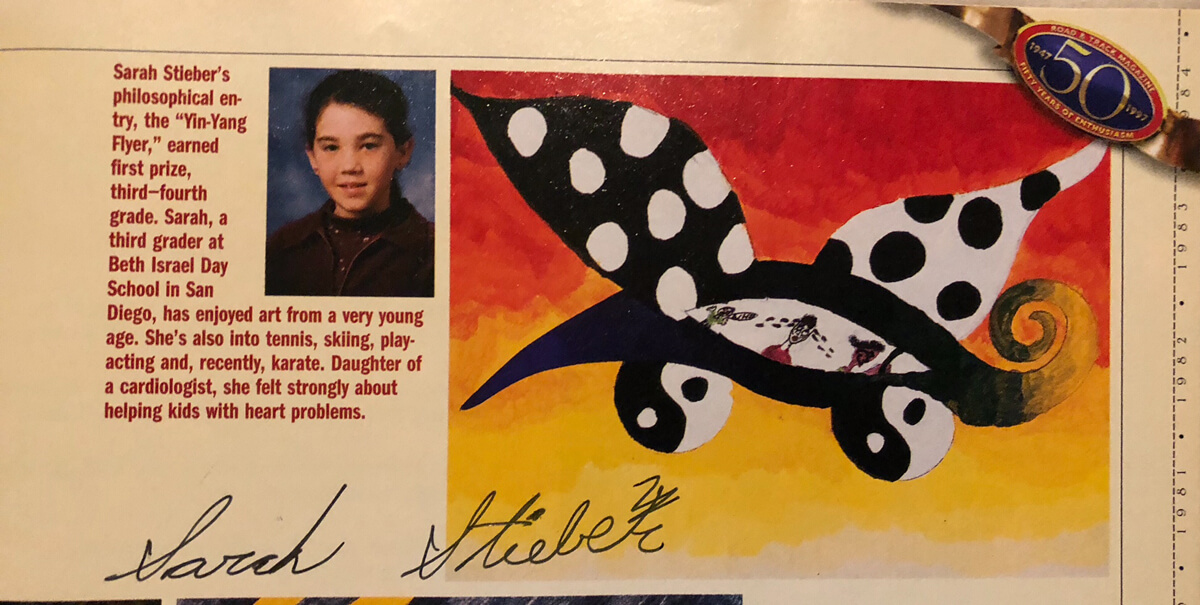 "These were my entries for Road & Track Magazine's "draw the car you want to drive when you grow up" art contest. Made "Ying Yang Flyer" when I was 7 and "Porkster" when I was 8 and won 1st prize both years. I think all the other kids drew actual cars haha. So happy that I get to live out all my trippy rainbow childhood dreams!"
Subsign: How would you describe your work style?
Sarah: I call my painting style "Electric Realism." I paint bright, large-scale figurative paintings of people and my goal is to depict a hyper-expressed and positive version of reality, where my characters are often experiencing a moment of mindfulness, joy, or resilience.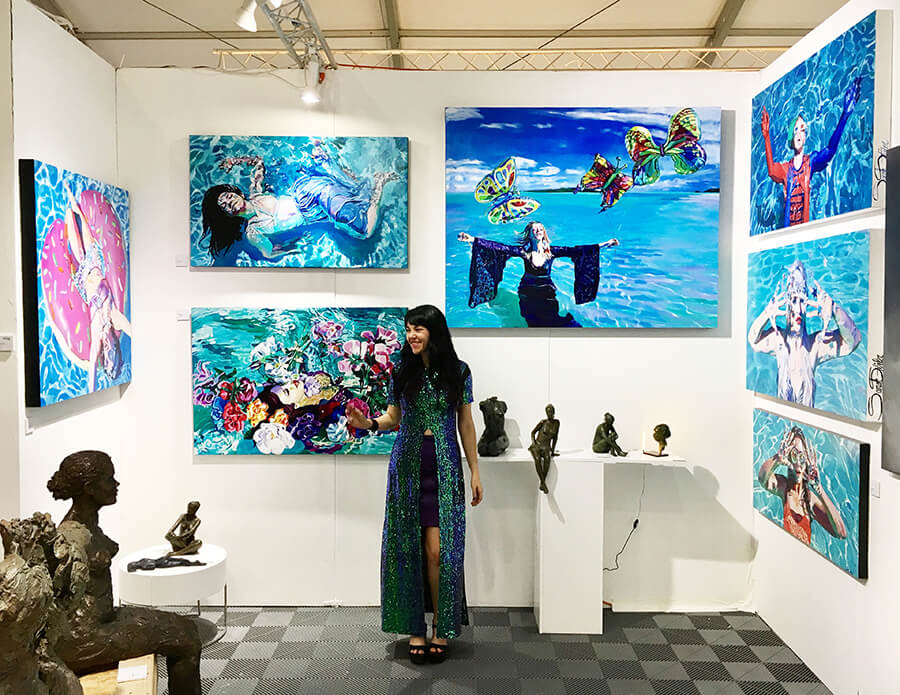 Subsign: How does your workstation look like?
Sarah: I have a big colorful art studio in an arts building in North Park, San Diego, called Art on 30th. It's definitely not organized! With the exception of when I clean up for open studios, you will find paintings, paint bottles, brushes, and rags all over the place. I have two mannequin heads with brightly colored wigs that hang out in there, as well as some flowery furniture, a glitter table, and a ribbon curtain.

Subsign: What is your favorite work you have done so far?
Sarah: My current favorite painting is "Follow Your Goddess" from my "Rainbow Ribbon Magic" collection. The 8' x 5' painting features four female creative entrepreneurs marching onward proudly, guided by ribbons, in front of a mural of a Goddess figure that is leading them forward with her arm outstretched. I love this painting because of all of the love and collaboration among artistic minds that made it possible! Two friends, Britt Kuechenmeister and Theresa Finch collaborated with me to paint the 16' "Goddess Mural" outside of my art studio just to use as reference for the painting, and during the photo-shoot the four models collaborated to dress each-other up to look like beautiful warriors, and to feel every bit as fierce as the painting suggests. Later, a film was created by Studio Luniste about this process.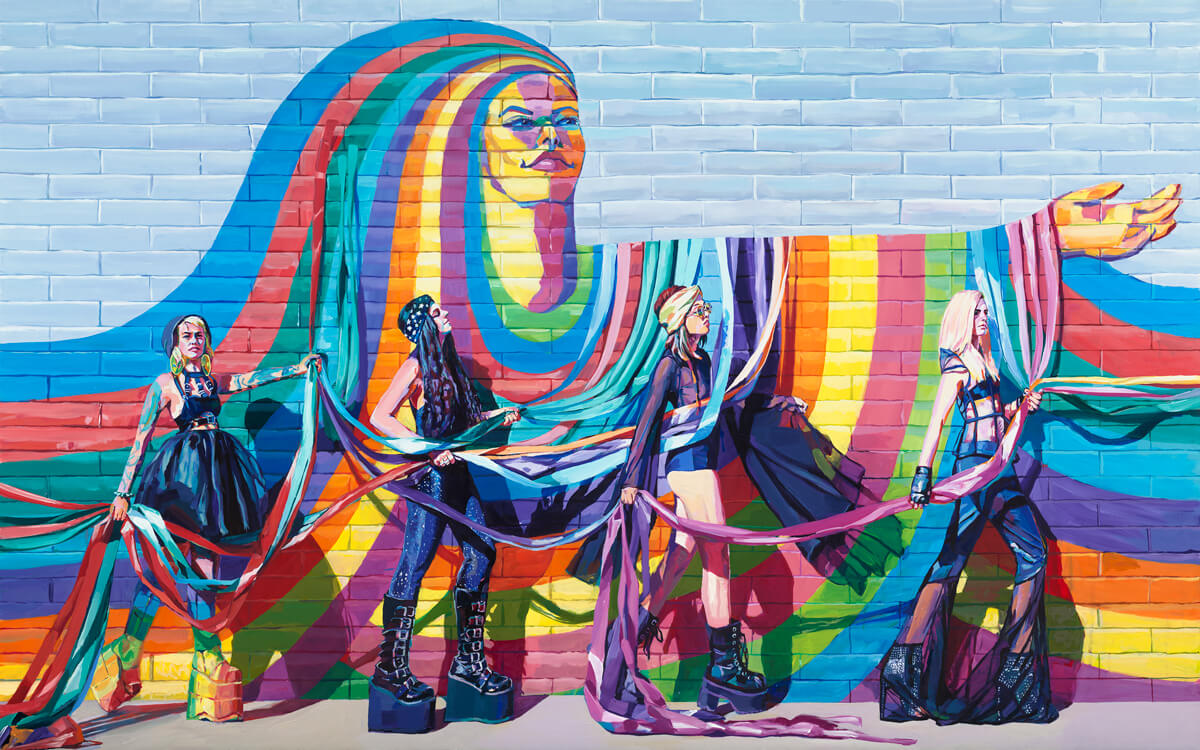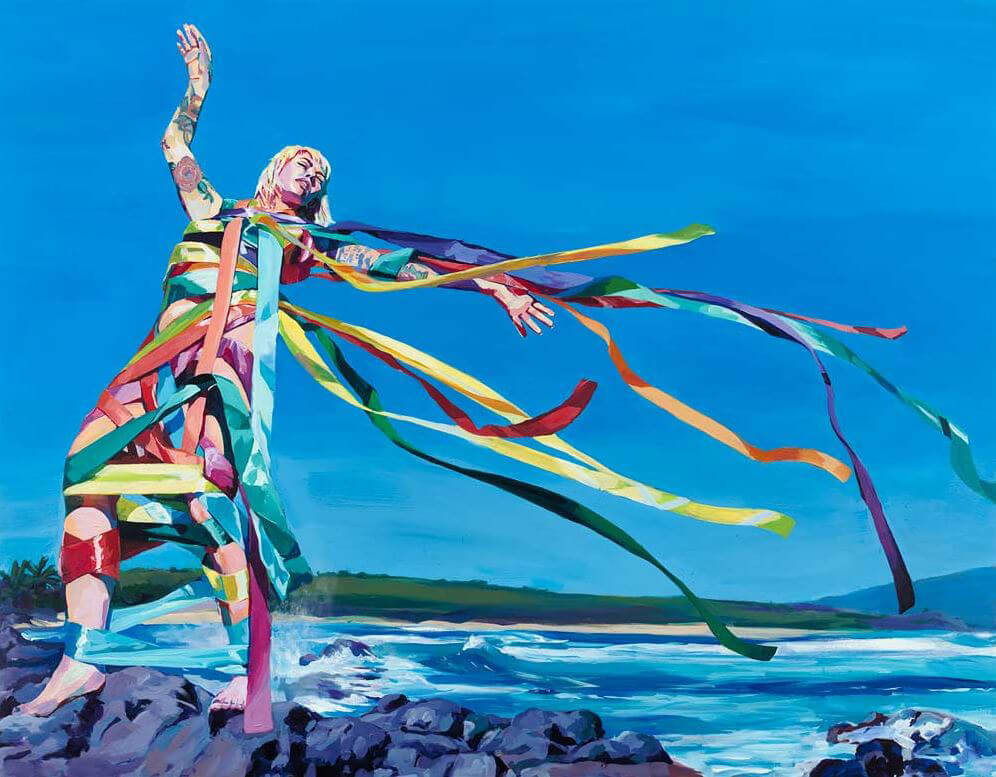 Subsign: Who do you admire as a visionary?
Sarah: This is going to sound cheesy, but my boyfriend Chris Kelly really inspires me. He owns an online company called Production Crate that is a visionary resource for filmmakers. He is such a creative big picture thinker. His entrepreneurial spirit and artistic pursuits have definitely inspired me to think bigger and pursue more epic projects.
Subsign: What advice could you give to someone starting out in the creative field of work?
Sarah: My advice would be to WORK! To get good at anything takes hours and hours of focus. Be willing to adapt and grow, enjoy the process, and don't be too precious with your early work – your style and skill-set will change.
Subsign: If you could learn to do anything, what would it be?
Sarah: I want to learn to meditate regularly!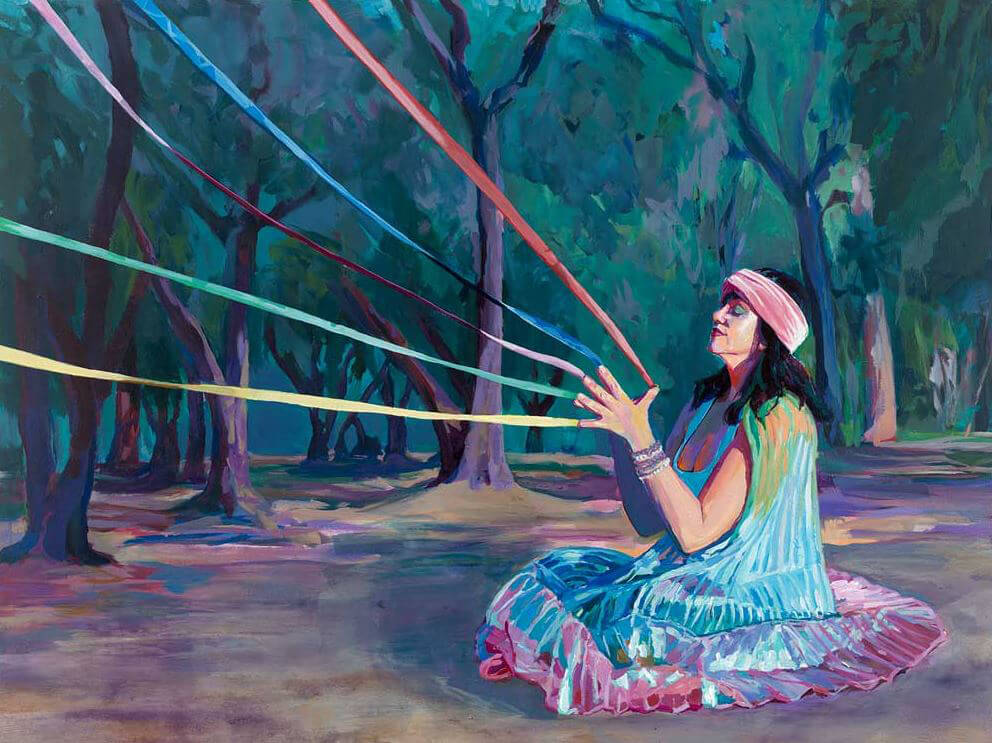 Subsign: Can you recommend for our readers a book, a song and a movie?
Sarah: "Big Magic" by Elizabeth Gilbert is a really special gem about pursuing creativity and curiosity, "Flawless" by Beyonce really pumps me up and makes me feel like a boss, and "Hook" has been a favorite movie since I was a kid.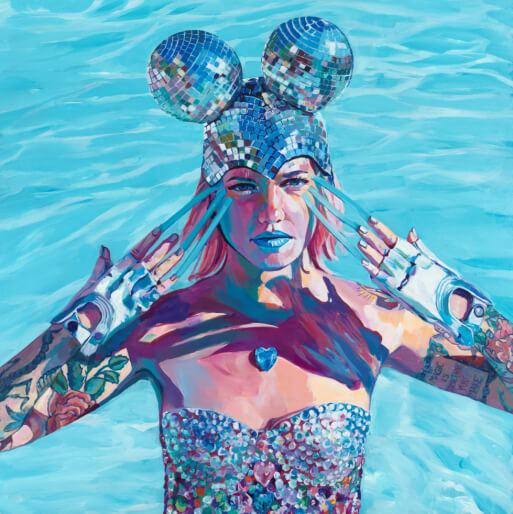 Subsign: If you could throw any kind of party, what would it be like and what would it be for?
Sarah: I just threw it! Delusional Grandeur, my art collective with mathematician Theresa Finch, just threw an appreciation party for all of the volunteers who helped us build our 18' "Goddess Tunnel" installation at Art San Diego! We completely decked out the rooftop cabana at the Andaz hotel in silver sparkles and rainbows, and we had catered food and bottle service. We had a coronation ceremony where we showed our gratitude by crowning all of the amazing volunteers! It was a total blast!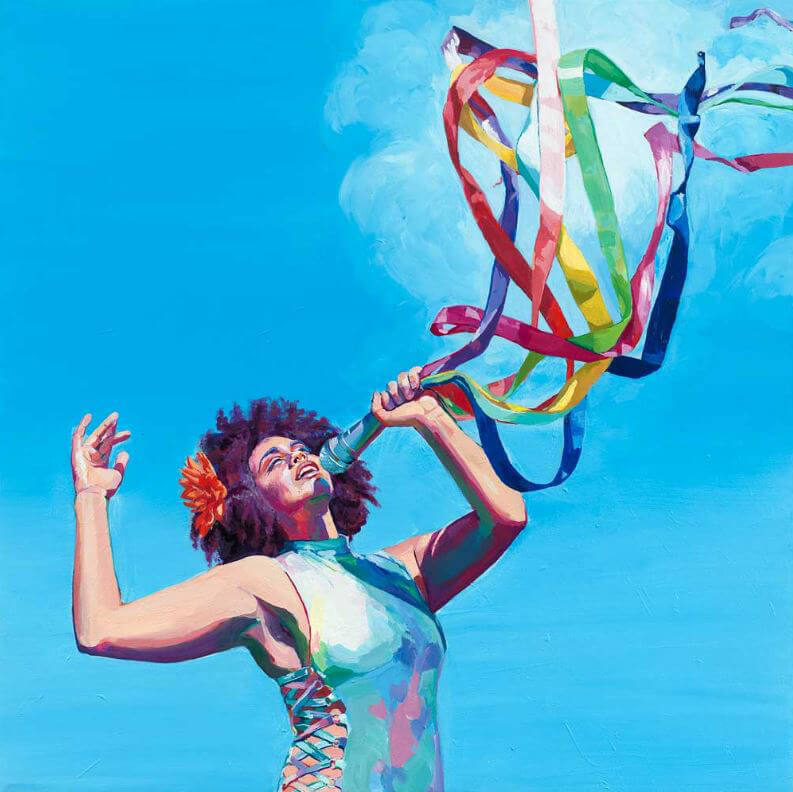 Subsign: What did you wanted to be as a grown up?
Sarah: A painter, through and through. I remember painting a rainbow as a 2 year old and thinking it would be so great to be an artist when I grew up. Now I'm a grown-up who paints rainbows!
Thank you Sarah for being a part of it!
If you know a creative that should be in the spotlight feel free to contact us at jojo@subsign.co .
For more of Sarah's work you can follow his on the link: Sarah – instagram, Sarah on facebook, Sarah – website