Ever since we have found Mircea's artwork on Facebook, we have been curious on how he would answer our questions. Also, we made it to 50 artists in our Spotlight. Hip hip hooray! We have something new coming for you, so keep your eyes on us.
Mircea: Currently I am living in Timișoara, working as an independent visual artist. I split my time between personal projects – drawing, assemblage, printmaking – and graphic design – illustrations, lettering and logo design. In curatorial projects, as well as in my own works, I am interested in pop art culture and how the traditional art methods have been incorporated in contemporary art.
Subsign: What was your childhood like? Do you think your experiences from childhood have influenced your present creative endeavors?
Mircea: My childhood overlapped with Romania's transition period in the 1990s, and I could split it in two phases: before and after cartoon network. My childhood means the playground with swings and slides, football in the parking lot, hide and seek, turbo bubblegum, fake coca cola, metallic toy cars, 8 bits computer games, Romanian pop music and a lot of drawing on paper, asphalt and bedroom walls. Those experiences will always be my best hiding place and the main source of inspiration.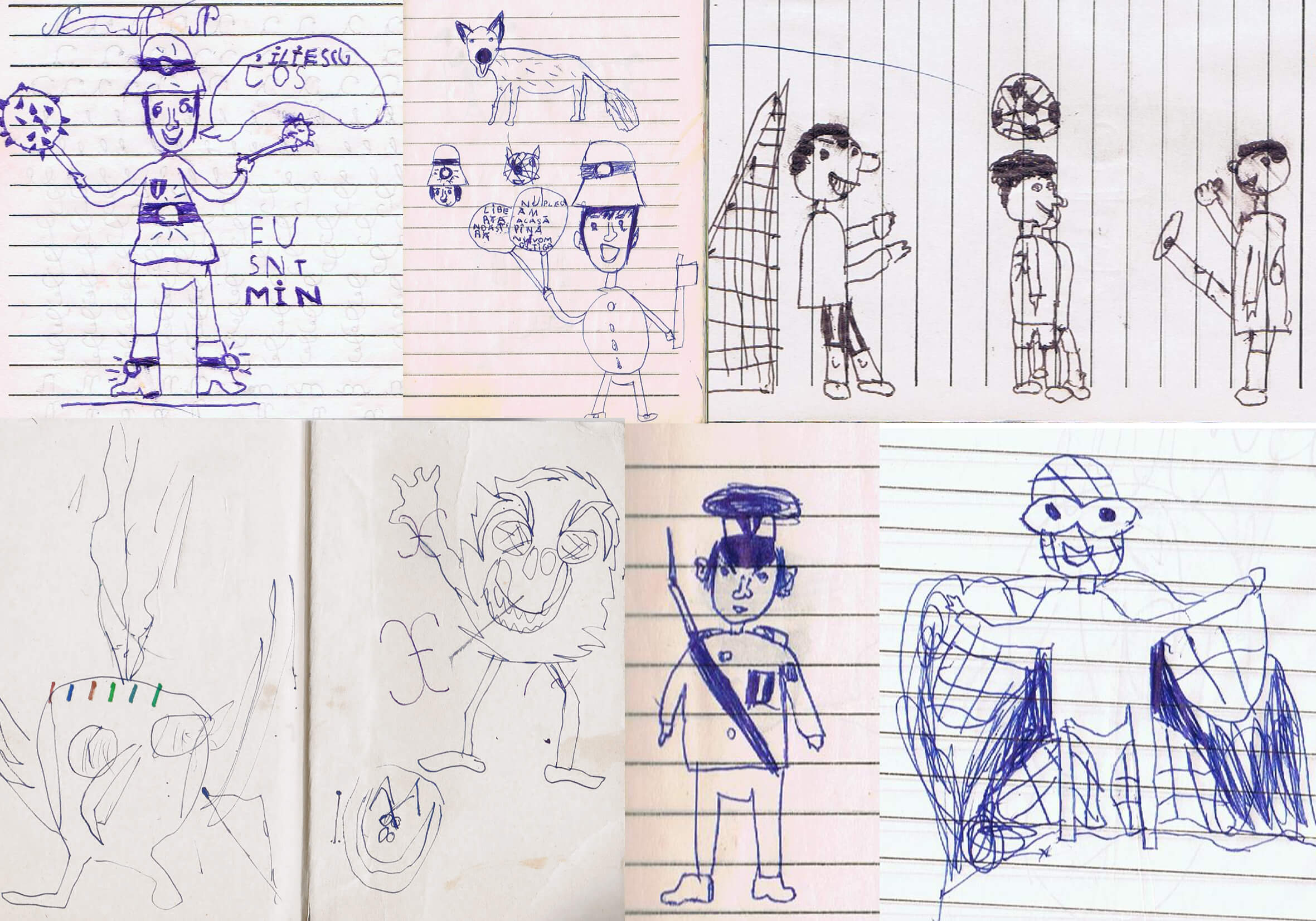 Subsign: What did you wanted to be as a grown up?
Mircea: Archaeologist, because I saw a documentary on pyramids. And even now I like to see myself as an archaeologist, trying to find the origins of image.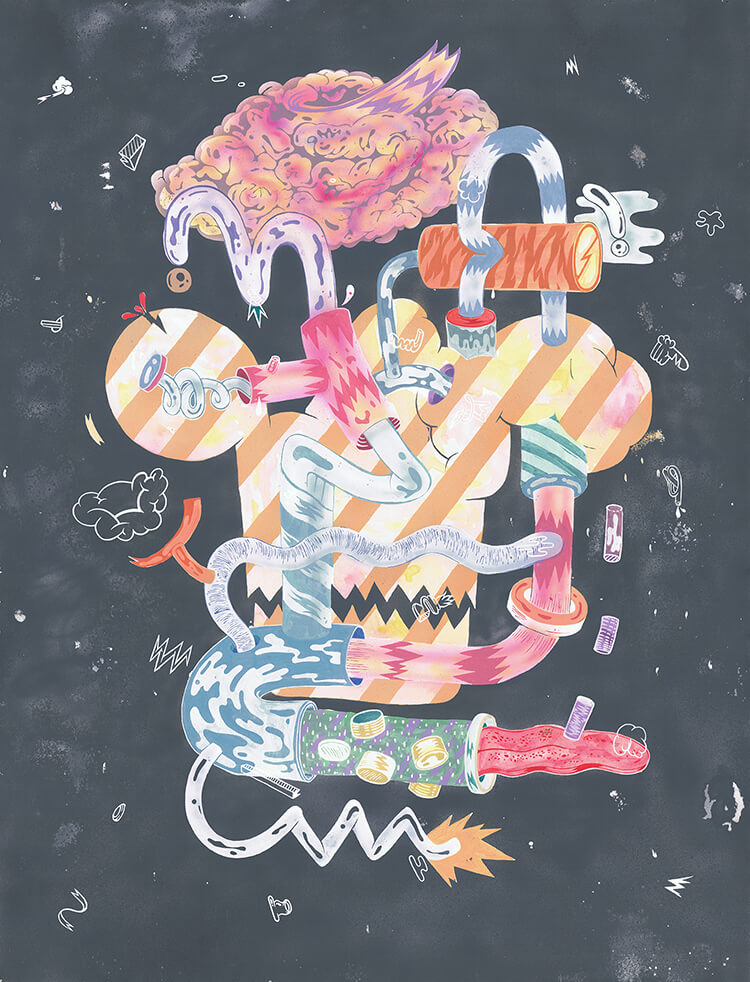 Subsign: How does your workstation look like?
Mircea: My place is a home/studio, below you can see my desk.
Subsign: Do you have a work style? How would you describe it?
Mircea: Although I work on various subjects, using a lot of techniques, I would say that all of my artworks are having the same "mojo", which for me is pretty hard to describe. Since I started to do lino cuts – ten years ago – I rediscovered drawing as a multilayered intersection of flat surfaces, with and without outlines.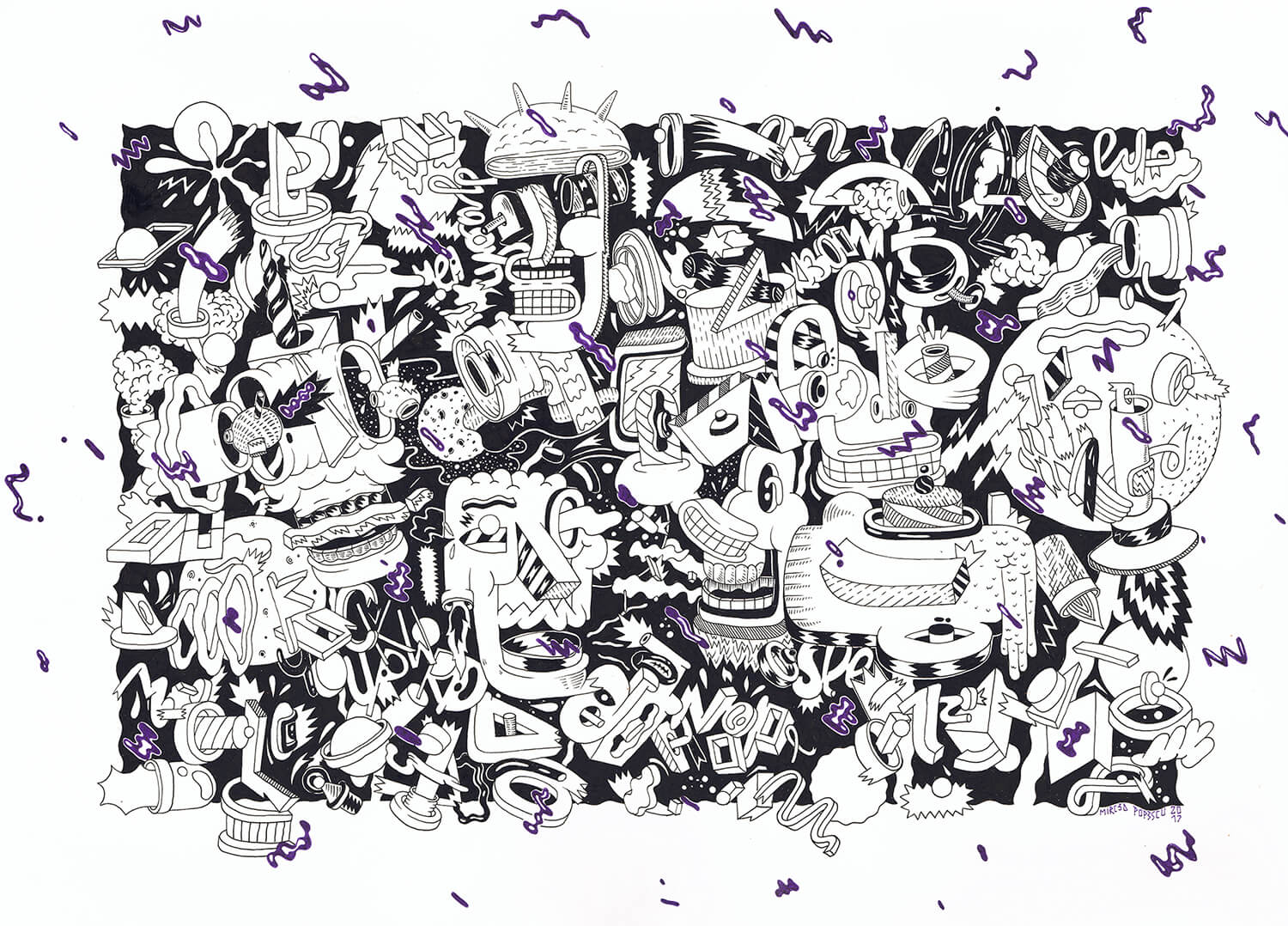 Subsign: Can you share with us how your creative process works? 
Mircea: First I am searching in my sketchbook through various drawings, notes and plays on words. This is how I remember the moments when I drew that stuff and I make a connection between moments. I am linking old sketches with new ones, and recompose them in the same picture, giving them a common sense. After that, I choose what technique to use, and the magic happens.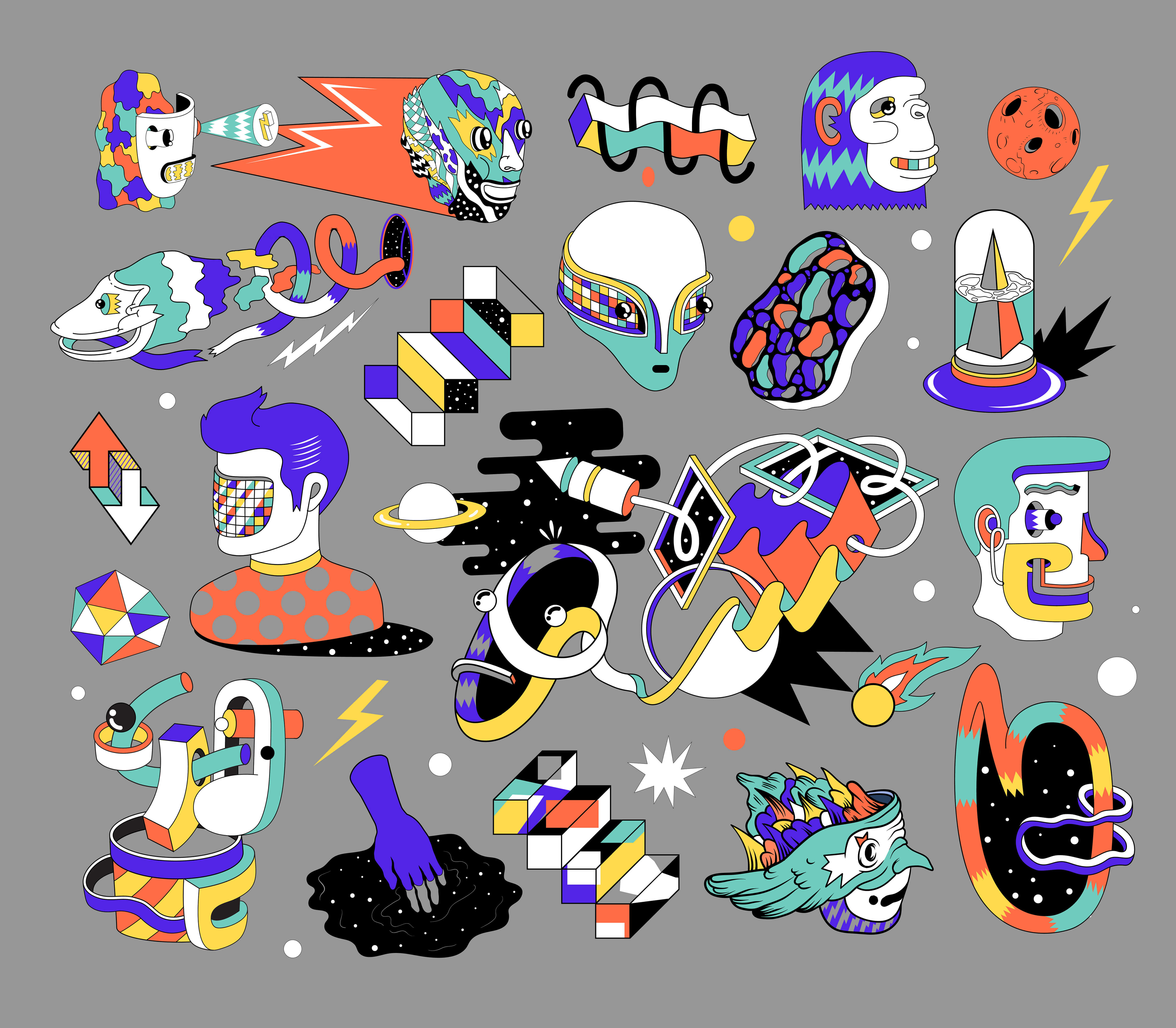 Subsign: What is your favorite work you have done so far?
Mircea: Hmmm… my favorite work is my latest work, because it's new and it's finished. And that means I can start a new project. Now my latest project is an indoor mural painting which is more an environmental artwork, a micro museum, regarding that it's made on 9 floors.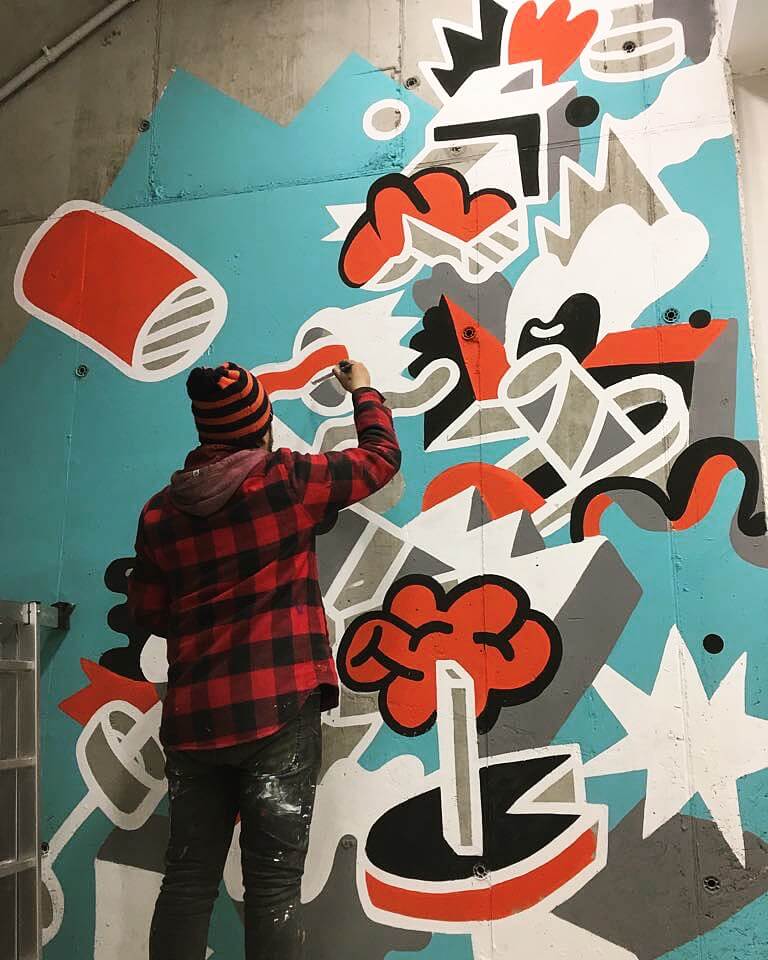 Subsign: Who do you follow for inspiration?
Mircea: I could say that I follow Instagram. There is so much information out there, that I know better what I like, than who I follow. My newsfeed is so various, from conceptual artists to illustrators and graffiti writers, art galleries and publications around the world.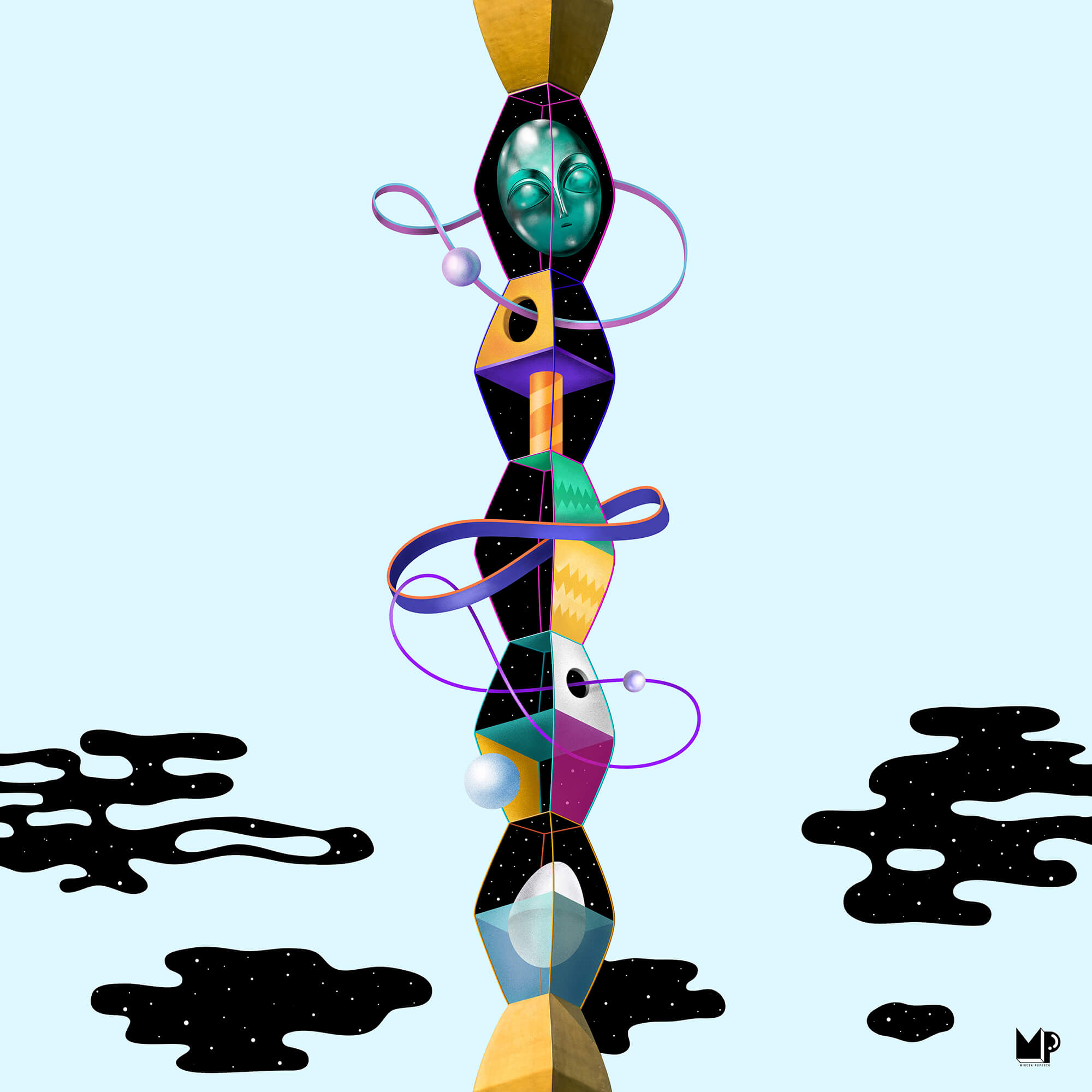 Subsign: What advice could you give to someone starting out in the creative field of work?
Mircea: Giving advice on creativity is like searching the meaning of fantasy. But I would just say that the creative field of work is not always about creativity, it's also about clients and budgets and skills of self-promotion.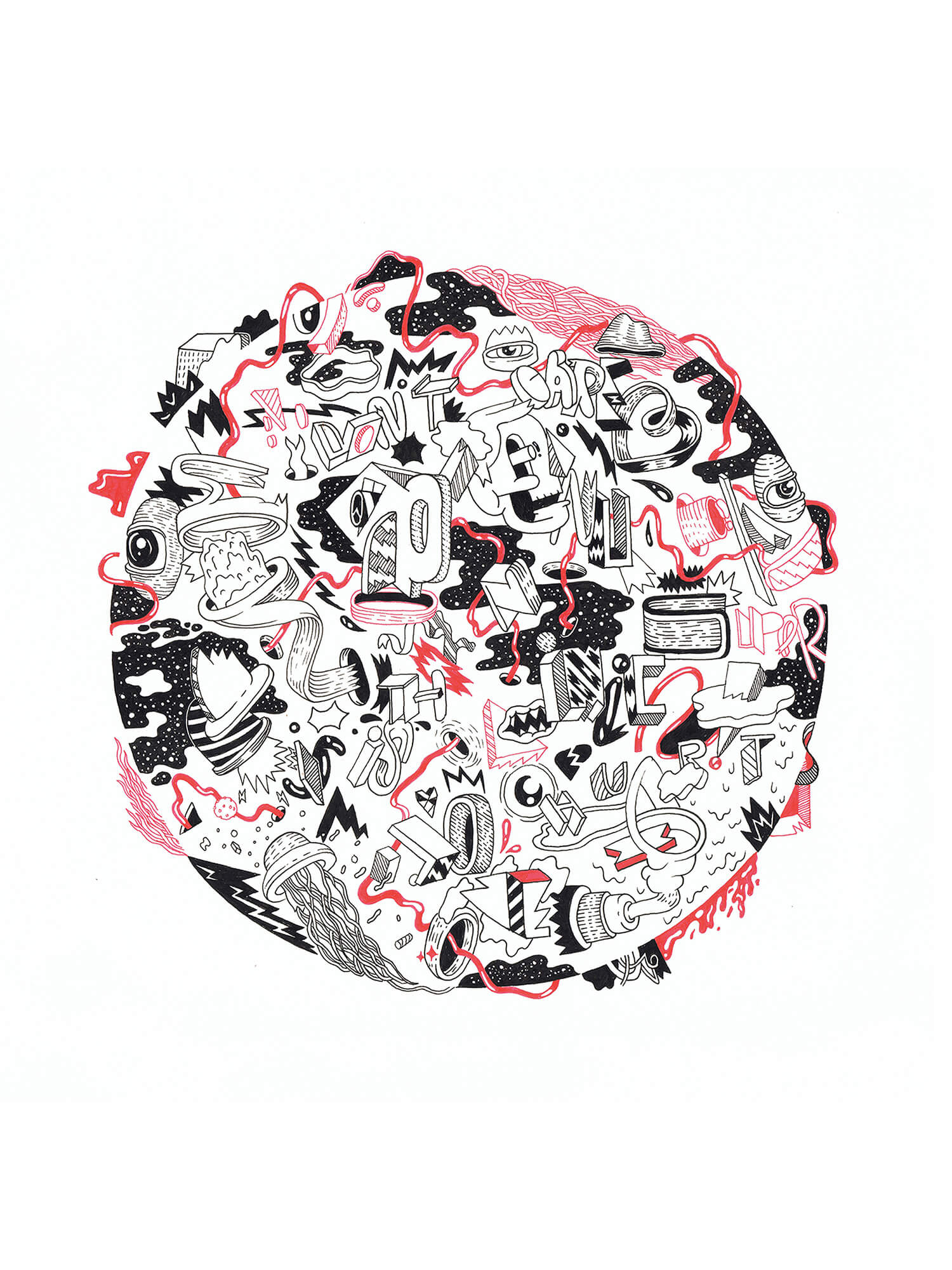 Subsign: If you would have a super power, what would it be?
Mircea: Teleportation.
Subsign: Can you recommend for our readers a book, a song and a movie?
Mircea: Book: Regis Debray – Vie et Mort de l'Image: Une histoire du regard en Occident (The Life and Death of the Image)
Movie: Brazil – Terry Gilliam (1985)
Song: Intergalactic – Beastie Boys
*These are my recommendations at this moment, tomorrow they would change.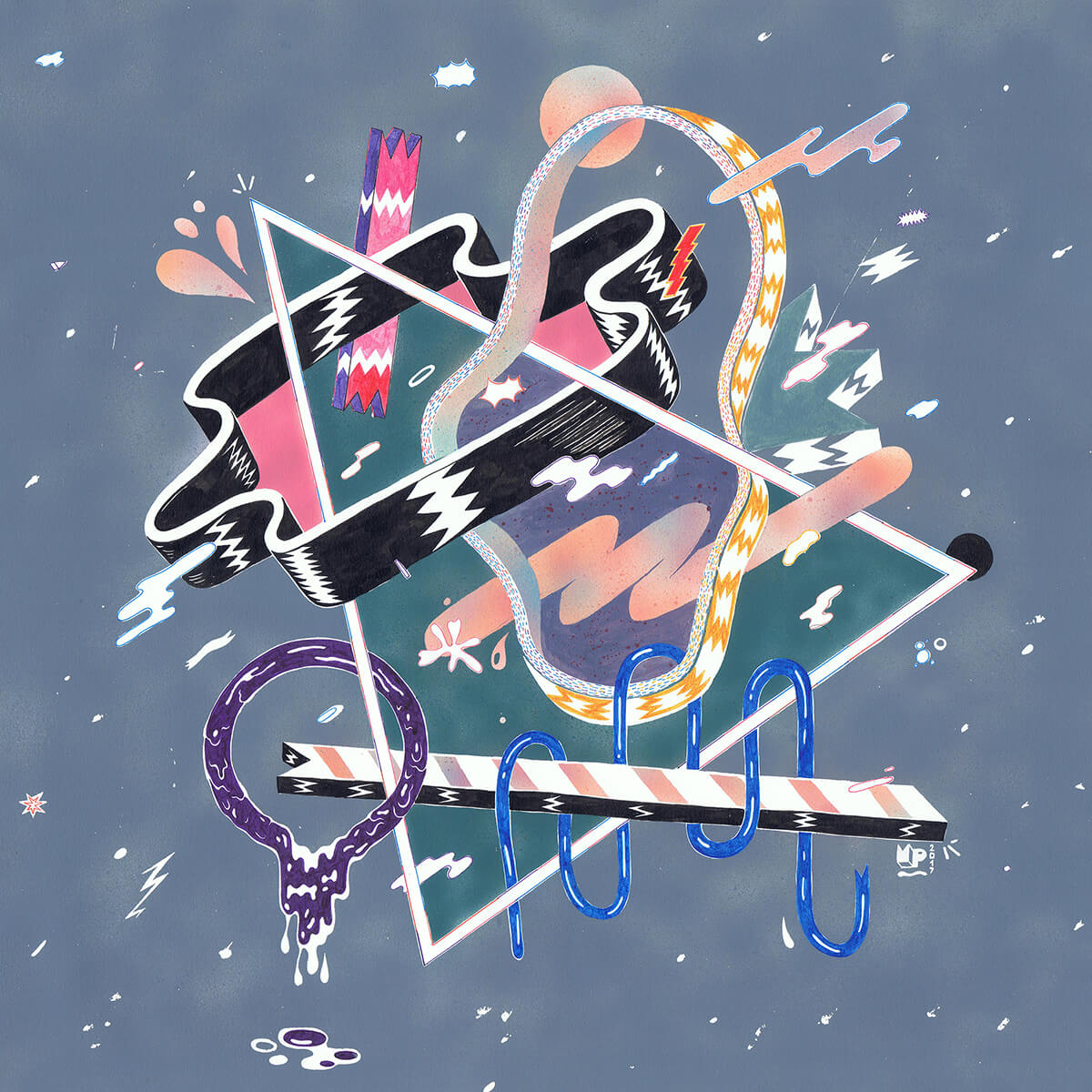 Subsign: If you could throw any kind of party, what would it be like and what would it be for?
Mircea: I think it would be a party with 90's Romanian pop and italo disco music, for no reason.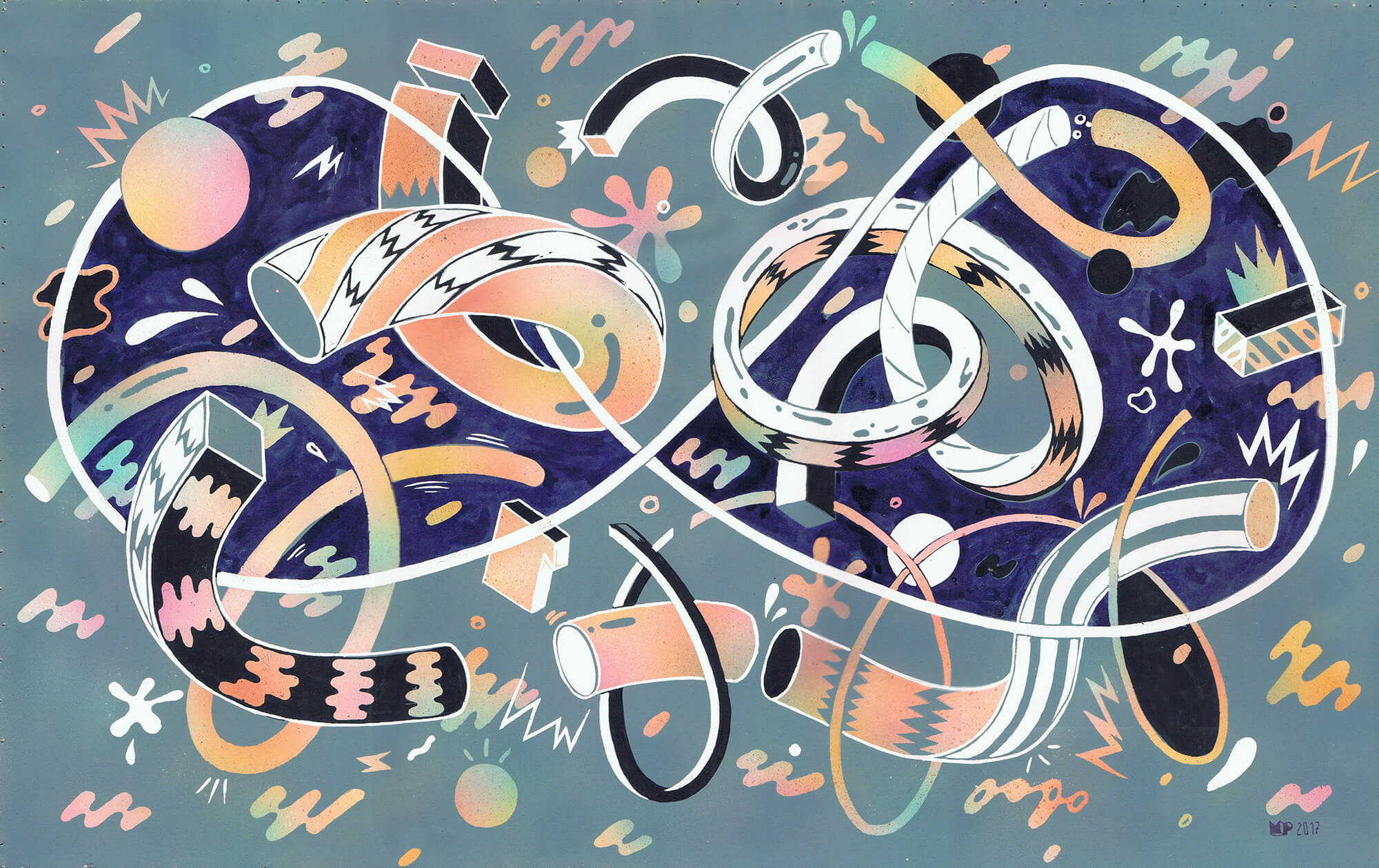 Subsign: What famous people would you invite to the party and why?
Mircea: I would invite Batman, to take care of the lights and security.
Thank you Mircea for being a part of it!
If you know an artist that should be in the spotlight, contact us at jojo@subsign.co .
For more of Mircea's work you can follow her on the links: Mircea on Facebook.